Will 2015 be the year for a Triple Crown winner?

That is question on the minds of horse racing pundits and fans now that American Pharoah has won the Kentucky Derby.
The Bob Baffert trained colt powered down the stretch to overtake Dortmund and Firing Line in the Derby but is he strong enough to win all three jewels of the crown? American Pharoah had an impressive win against one of the strongest fields of three year olds in recent memory but the pace was slower than expected. Two speedy horses expected to set the pace never got into the mix. Materiality and Mr. Z. ended up lost in the back of the pack and never had a chance to set the tone.
The top three finishers in the Kentucky Derby are headed to the Preakness. American Pharoah, Dortmund and Firing Line will again be the favorites and should again battle for the top spot.
But watch out for two Todd Pletcher trained horses. Materiality and Competitive Edge both have the credentials to change the dynamic of this race quickly. Materiality had trouble getting out of the gate at the Derby but a clean start at the Preakness could mean a much faster race. Competitive Edge is 4 for 4 so far but has never raced over a mile. Will he have the endurance for the longer race?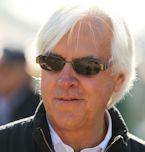 Interesting American Pharoah stat… trainer Bob Baffert is 3-0 when his Kentucky Derby winner runs in the Preakness.
"To me, the Preakness is the easiest of the three legs," Baffert said. "The Derby is the hardest. Once you get through there, you know your horses are in top form. It's a two-week turnaround. It's just a matter of getting there."
Come Saturday in Baltimore we'll see if Baffert's streak and American Pharoah's Triple Crown chances are still alive after The Preakness Stakes.