There were no surprises in the 2016 Kentucky Derby results. The top four favorites finished the race in top four order.
Nyquist is now 8-0 in his career. Jockey Mario Gutierrez is now 2-0 in the Kentucky Derby.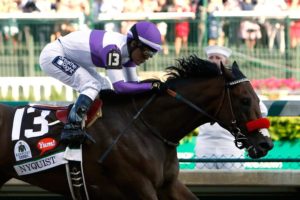 Danzing Candy roared out to the lead and Nyquist settled in just behind. As they came down the stretch Nyquist took the lead and held it the rest of the way home. A hard charging Exaggerator, ridden by Kent Desormeaux, almost closed but was just a little too late as he came in second.
Nyquist's owner J. Paul Reddam, got his second Kentcuky Derby victory. His first was in 2012 with I'll Have Another. I'll Have Another then won the Preakness but was a scratch in the Belmont and didn't get his shot at a Triple Crown.
2016 Kentucky Derby Results
1. Nyquist
2. Exaggerator (1 1/4 lengths behind)
3. Gun Runner (4 1/2)
4. Mohaymen (4 1/2)
5. Suddenbreakingnews (4 1/2)
6. Destin (6 3/4)
7. Brody's Cause (9 1/4)
8. Mo Tom (10)
9. Lani (10 1/2)
10. Mor Spirit (14 1/4)
11. My Man Sam (14 1/4)
12. Tom's Ready (16 3/4)
13. Creator (18)
14. Outwork (18 1/4)
15. Danzing Candy (19 3/4)
16. Trojan Nation (27 1/2)
17. Oscar Nominated (33 1/4)
18. Majesto (37 1/2)
19. Whitmore (38)
20. Shagaf (DNF)
Watch a recap of the 142nd running of the Kentucky Derby