A female jockey has never won the Preakness Stakes.  Only two have tried.  The last time was 1994.
Will the third time be a charm?  And in Charm City too?  By 6:30 Saturday night we should know.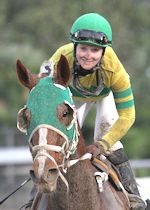 Since she was 7 years old,  25 year old Rosie Napravnik has dreamed about winning the Triple Crown of Thoroughbred Racing.  Unfortunately she came in 5th at the Kentucky Derby two weeks ago so she won't win the Triple Crown this year but she still has a good shot at winning a Triple Crown race in 2013.
Only one time previously has a woman jockey won one of the jewels.  In 1993, Julie Krone won the Belmont Stakes riding Colonial Affair.
Rosie has a good chance to become the second female to do it.  She has been riding strong all season, has a good horse in Mylute (currently at 5-1 odds), and the Preakness field is smaller this race with only nine horses competing.
As much as I would like to see Orb win the Preakness so there's a shot at a Triple Crown winner this year if it doesn't happen I think it would be great for the sport if the winner is ridden by Rosie.