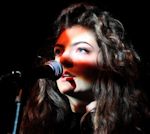 Fans of Lorde, the teenage pop star from New Zealand will be excited to know she'll be performing during InfieldFest at the Preakness on May 17, 2014.
Her song "Royals" is the hit off "Pure Heroine," that is a mainstay in the top 20 of Billboard's Hot 100 chart.
InfieldFest is a multi-entertainment festival that features nationally-recognized musicians and bands, two stages, MUG Club and unique attractions throughout the day as fans await the running of the Preakness Stakes.