California Chrome dominated the 140th running of the Kentucky Derby as he polished off the rest of the field en-route to a commanding victory at Churchill Downs.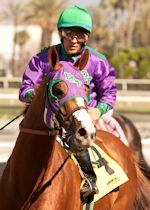 The 5-2 favorite hung out in third just behind the leaders until jockey Victor Epsinoza turned on the jets at the top of the back stretch and cruised to an easy 1 3/4 length victory over Commanding Curve, with Danza third.
Congratulations go out to 77 year old Art Sherman, who became the oldest trainer to win a Kentucky Derby.  And, California Chrome become the first California-bred horse to win the "run for the roses" in 52 years.
The three year old colt is now off the Baltimore for the Preakness Stakes, the second leg of the Triple Crown.  We wish him well!